George A Frederick, 1842-1924

George Frederick was born on December 16, 1842, the eldest child of John Martin and Anna Margaret (Hild) Frederick, German immigrants from Bavaria who settled in Baltimore.
As a child his parents called him Volishis Georg, but before entering his apprenticeship he Americanized his name to George Aloysius, remaining George A. Frederick for the rest of his life.

"It is the purpose of the building that suggests to me the most fitting and pleaseing style of architecture for it."
—George A. Frederick
His father was employed as a clerk and supported seven children: George, Mary, Alphonse Joseph, Philomena, Anna, Catherine, and Cecelia. Alphonse would become a Sulpician priest at St. Charles College in Catonsville, taking the name Reverend Joseph A. Frederick.
The German Catholic roots nurtured in George's youth would influence the work he accepted throughout his career. He was educated at the Christian Brothers School (now Calvert Hall College High School) in Baltimore until age 16 when he was accepted as an apprentice in Lind & Murdoch's architecture firm of Baltimore.
Without formal architectural schools, apprenticeship was the most common way to enter the building profession. For the next four years he worked under this firm and had some experience also with Niernsee & Neilson of Baltimore.
The young architect left his apprenticeship around 1863 with a masterful command of architecture and set up his own practice. At the age of twenty-one, Frederick submitted a new Baltimore City Hall design and beat out the more experienced bidders for the commission. Frederick was commissioned as architect for City Hall on a two-percent commission, paid monthly as work progressed.
Frederick continued to work for Baltimore City as the architect for the Baltimore Park Commission, a position he held from 1863-1895. He worked on projects in Druid Hill Park, Patterson Park, and Federal Hill Park. During his career, he designed numerous churches for various denominations in Baltimore and throughout Maryland.
His German ethnic background brought him a number of commissions from Baltimore's large German community, including the German Correspondent newspaper building, institutions for German orphans and aged persons, and residences and breweries for prominent German brewers in the city.
He married Mary E. Everist on January 10, 1865, and their first and only child, Katherine, was born in July 1876. In a deed dated from 1875, Frederick acquired land from the Mayor and City Council of Baltimore. In following the deed dated 1903, the land and buildings are signed over to William B. Rouse.
The Baltimore City directories list Frederick and his wife as residents of 1118 St. Paul from 1900 to 1903. The homes at 1118 and 1120 St. Paul were designed and built by Frederick.
In 1890 he entered a competition to plan Catholic University in Washington, D.C., but was beat by fellow Baltimore architects Baldwin & Pennington. E. Francis Baldwin and Frederick had a strained relationship for many years, vying for many of the same architectural jobs in a very competitive market.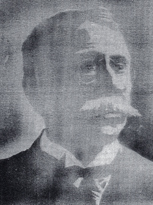 Frederick retired around 1903. He had been a charter member of the Baltimore Chapter of the American Institute of Architects since 1868, and was given a Fellowship in 1877. Later in his career he sat on the Board of Directors.
A 1920 Baltimore Sun article characterized Frederick as "a man dignified yet gracious in bearing" and who "possesses the repose of manner usually characteristic of those who have achieved big things." In 1912, Frederick recounted his recollections of to J. B. Noel Wyatt, who was then president of the Baltimore Chapter of the AIA. His reminiscences, preserved in manuscript form at the Maryland Historical Society, present a vivid picture of the practice of architecture in nineteenth-century Baltimore.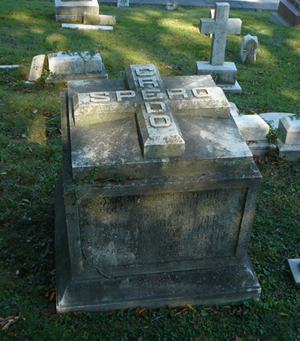 On February 24, 1923, he lost his wife of 58 years to a brain hemorrhage. The following year, on August 17th, he died of the same cause at his residence at the Poplar Apartments, 211 Roland Avenue, and was interred in New Cathedral Cemetery next to his wife in a tomb enscribed Spero Credo (I hope to believe).
He was survived by his daughter Katherine, brother Rev. Joseph Frederick, and sister Miss Philomena Frederick. Daughter Katherine never married and is also buried in the family plot following her death in 1949.
Though he witnessed the Baltimore Fire of 1904 that destroyed many of his creations, one obituary proclaimed that "Mr. George A. Frederick in his long life of eighty-one years never had to complain of lack of employment or lack of appreciation."