George Frederick's Works in Baltimore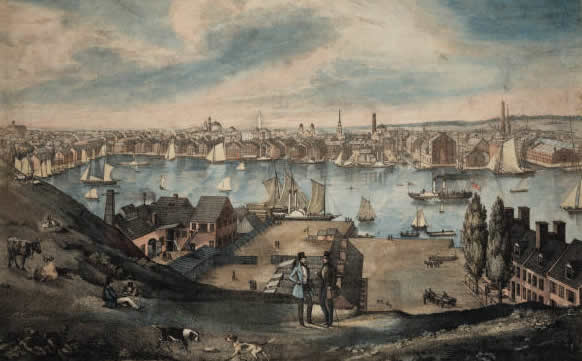 In the early 19th century, Baltimore was the third largest city by population in the U.S. The city was urbanizing more quickly than any other city south of Philadelphia. Its deepwater port dealt with grain, pork, beef, and other produce from the farms of Maryland and the Shenandoah Valley. Construction of the federally funded National Road (presently U.S. Route 40) and the private Baltimore and Ohio Railroad (B&O) during this time reinforced Baltimore as a major shipping and manufacturing center.
As a result of this growth, a unique skyline peppered with churches and monuments developed. Baltimore acquired its moniker, "The Monumental City" after an 1827 visit to Baltimore by President John Quincy Adams. At an evening function Adams gave the following toast: "Baltimore: the Monumental City—May the days of her safety be as prosperous and happy, as the days of her dangers have been trying and triumphant."
As urban centers became more crowded, the 1800s were a time of a new appreciation for green space and the American Parks Movement was born. New York, Philadelphia and Baltimore leaders promoted efforts to create parks, public open spaces and grand boulevards complete with landscaping and statuary.
Frederick made his mark in Baltimore during this period by designing many of its buildings and park structures.